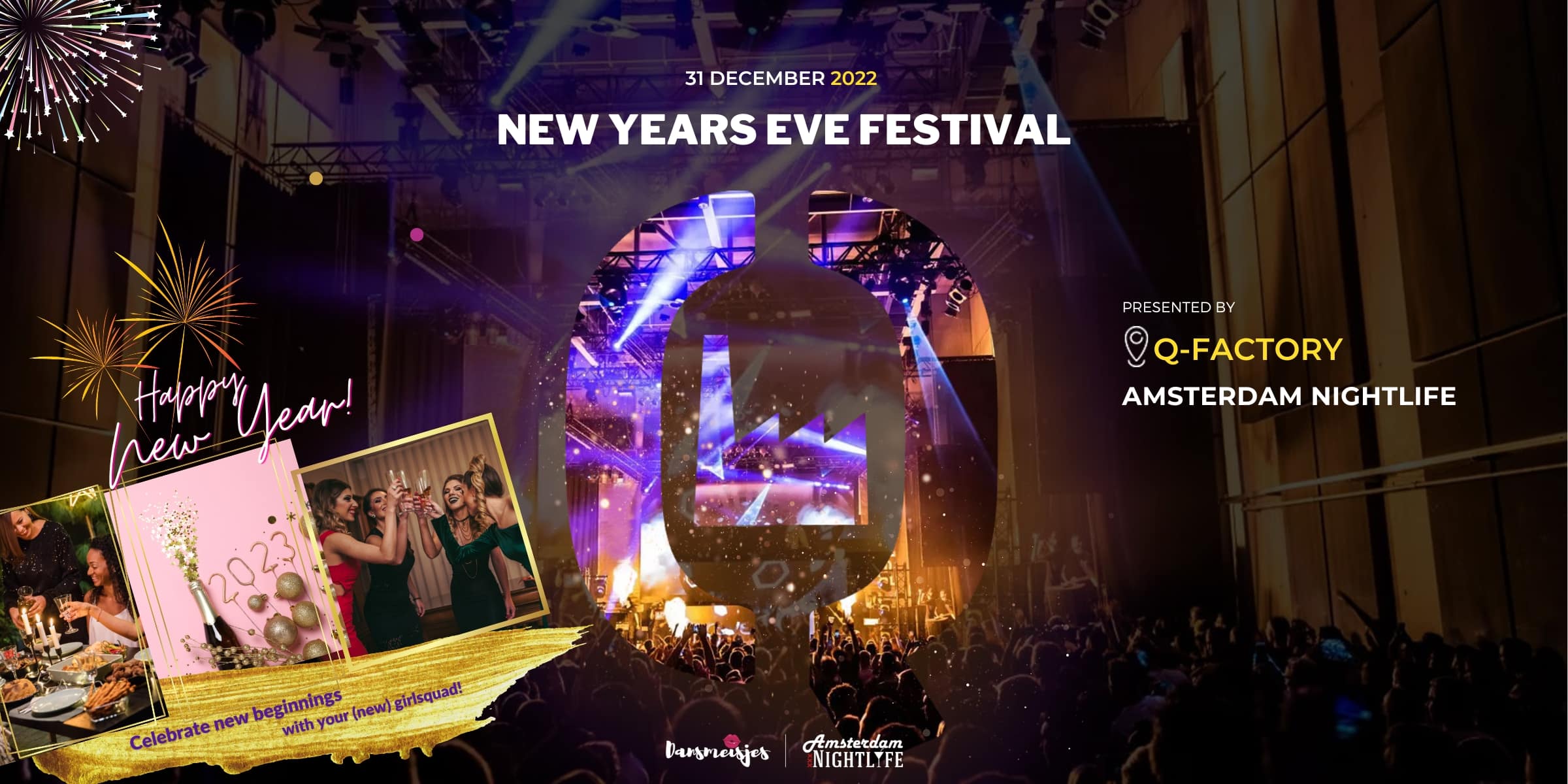 Party Like It's 2023! NYE Party with Dansmeisjes at Q-Factory, join us!
— ENGLISH BELOW —
Happy New Year Ladies!
Pop 2023 in met een heerlijk feestje met je (nieuwe) girlsquad!
Dansmeisjes is hét platform met de leukste borrels en exclusieve feestjes voor like minded vrouwen tussen de 21 en 38 jaar. De evenementen zijn jouw doorgang naar een nieuw netwerk van de leukste meiden bij jou in de buurt. Zin om nieuwe vriendinnen te ontmoeten? We got you!
Klaar voor een oudejaarsavond om nooit meer te vergeten?
Nog geen plannen gemaakt en zin in een NYE avontuur met de leukste meiden uit de buurt? Dan hebben wij voor jou en de ladies iets leuks geregeld! Om het nieuwe jaar te vieren, gaan we met zoveel mogelijk Dansmeisjes samen een onvergetelijke NYE party beleven!
Get ready voor een knalfeest bij één van de grootste muzikale toplocaties van Amsterdam; Q-Factory. Reken op champagne in overvloed en dj's die hits draaien alsof er geen morgen is! Voor de full experience kan je vooraf aansluiten bij een heerlijk diner buffet en ontmoet je ook gelijk alvast de andere meiden via Dansmeisjes, waarmee je erna samen de dansvloer in vuur en vlam zet.

Laten we het nieuwe jaar gelijk goed beginnen met elkaar! Trek je mooiste glitter & glamour outfit aan, ontmoet de leukste (nieuwe) vriendinnen en let's have fun!

Als je de party vibes al voelt, lees dan even verder en kies het ticket dat het beste bij jouw feeststemming past of stem het samen met de meiden binnen de community af. Nadat je jouw ticket hebt besteld, ontvang je toegang tot de Dansmeisjes whatsappgroep als je hier nog niet in zit.
Het Pɑɾtγ ticket
Hiermee ben je verzekerd van een gezellige avond op een toplocatie!
Ready to shake ya booty girllll?
Het Party + Dinner ticket
Om 19.00 uur beginnen we met wat quality time en een uitgebreid oudejaarsbuffet voordat we het dak openbreken en het feest losbarst. Kies wat je lekker vindt van het buffet en bereid jezelf voor op een onvergetelijke NYE Party!

Het VIP- all inclusive ticket
Fijn om tussen de dansjes door een loungeplek voor jezelf te hebben? Go VIP!
Voor de VIP ers is er tevens een extra VIP-only feest inbegrepen. Met champagne, fruit, sweets, hostesses, snacks, oliebollen en loungeplekken. Alle comfort die je nodig hebt om deze avond nog specialer voor te maken!
Pop γɑ bottle!
Zin om je avond te beginnen met een fles Champagne?
Deze kan je exclusief vooraf online bestellen als upgrade optie bij jouw ticket.
Extra leuk om dit met een paar meiden samen te doen en delen!,/span.
Good to know
Het feest is verder gemengd met de leukste party people die via Amsterdam Nightlife & Q Factory komen.
Girls Just Wanna Have Fun!
♬ Maak je persoonlijke account aan of log in als je deze al hebt
♬ Kies uit je favoriete ticket voor de beste experience met de meiden
♬ Upgrade jouw avond met een fles Champagne
♬ Dresscode: Glitter & Glamour
♬ Eclectic, Urban, Afro House, Pop & World music
♬ Toegang tot de Dansmeisjes borrel whatsappgroep
♬ Toegang tot de exclusieve Dansmeisjes NYE whatsappgroep

De ticketverkoop staat onderaan de pagina, scroll je even door als je hier 100% bij wilt zijn?

Tip! Tickets zijn meestal weken voor het evenement uitverkocht en aangezien we de afgelopen twee jaar geen NYE-feest of festival hebben kunnen organiseren, zullen ze dit jaar zeker nog wat sneller uitverkocht zijn. Dus een klein advies van ons, koop je tickets gelijk en maak deel uit van een onvergetelijke oudejaarsavond met de girls!!

**Tickets zijn niet restitueerbaar** 
---
---
— ENGLISH —

BEAUTIFUL LADIES!
Let's Pop into 2023 with your (new) girlsquad! 
Dansmeisjes is the platform with the best drinks and exclusive parties for like minded women  between 21 and 38 years old. The events are your passage to a new network of the most fun, adventurous and loyal ladies in your neighborhood. Want to upgrade your girlsquad and build real connections? We got you! 
Ready for a New Year's Eve to remember?
No plans yet and looking forward to a NYE adventure with the most fun ladies, who just like you, like a good party? Then we have arranged something fun for you!
To celebrate the new year, we are going to have an unforgettable NYE party together with as many Dansmeisjes (meaning: girls who love to dance and go out on adventure with other ladies) as possible!
Get ready for a great party at one of the biggest musical venues in Amsterdam; Q-Factory. Count on champagne in abundance and DJs spinning hits like there's no tomorrow! For the full experience you can join a delicious dinner buffet beforehand and meet the other girls from the Dansmeisjes community, with whom you will set the dance floor on fire afterwards.
Let's start the new year off right with each other! Put on your most beautiful glitter & glamour outfit, meet (new) friends and let's have fun!
If you are already feeling the party vibes, read on and choose the ticket that best suits your party mood or coordinate it with the girls within the community. 
After you order your ticket, you will receive access to the Dansmeisjes whatsapp group if you are not already in it. 
The Pɑɾtγ ticket
This will guarantee you a fun evening at a top location!
Ready to shake ya booty girllll?
The Party + Dinner ticket
At 7 p.m. we start with some quality time and a sumptuous New Year's Eve buffet before we break open the roof and the party breaks loose. Choose what you like from the buffet and prepare yourself for an unforgettable NYE Party!
The VIP all inclusive ticket
Nice to have a lounge spot to yourself between dancing? Go VIP!
For the VIP-ers there is also an extra VIP-only party included. With champagne, fruit, sweets, hostesses, snacks, oliebollen and lounge areas. All the comforts you need to make this evening even more special!
Pop γɑ bottle!
Feel like starting your evening with a bottle of Champagne?
You can order this exclusively in advance as an upgrade option with your ticket.
Girls Just Wanna Have Fun!
♬ Choose your favorite ticket for the best experience with the girls.
♬ Upgrade your evening with a bottle of Prosecco or Moët & Chandon Champagne
♬ Dress code: Glitter & Glamour
♬ DJ's: Eclectic, Urban, Afro House, Pop & World music
♬ Access to the exclusive Dansmeisjes NYE whatsapp group
♬ Access to the general Dansmeisjes whatsapp group
Ticket sales are at the bottom of the page, please scroll through if you want to be 100% here!
Tip! Tickets usually sell out weeks before the event, and since we haven't been able to host a NYE party or festival for the past two years, they will definitely sell out a little faster this year.
So a little advice from us, buy your tickets right away and be part of a historic New Year's Eve you'll never forget!
**Tickets are non refundable** 
---
FAQ
Is it an exclusive Dansmeisjes party?
It's a mixed party with hundredssss of party people! We chose this party as we know it has a lot of space, a great venue with the best music and also because we love the quality time during the dinner for us ladies!
Bezoekers van het evenement